Join the Yamaha Family!
Creating a lifetime of exciting and memorable experiences.
Gianluca M.
Here's my favorite picture with my MT09. We got married this year during difficult Covid time. My bike is named Blueberry and she's even carrying flowers, c'mon! We usually ride around this lake enjoying the view of gators and especially twists!
ANGEL H.
I have to be honest, everyplace I take my Yamaha really revs my heart. Everywhere I take my bike is my favorite place to take it! As long as I'm able to ride, I really don't care. I just want to ride, ride, ride!
BRANDON S.
The Oregon dunes are a perfect blend of camping, adrenaline filled rides, and time spent on the beach. Nothing better than scenic rides that my kid can enjoy too.
GET WHAT YOU WANT, WHEN YOU WANT IT.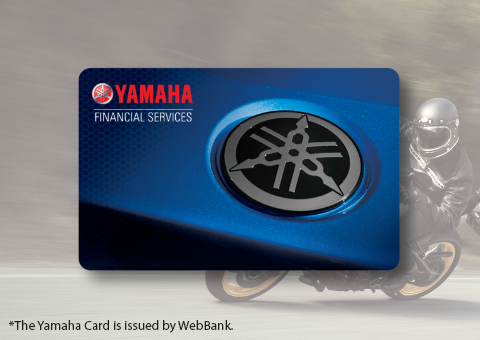 The Yamaha Card is the Industry's only factory backed credit card!
Purchasing new or used products, Genuine Yamaha Parts, accessories, and service has never been easier with the Yamaha Card. A revolving line of credit allows you to pay off your loan when it's convenient for you and gives you repeat purchasing power to get what you want, when you want it directly though Yamaha.
YAMAHA CARD FEATURES AND BENEFITS:
No annual fee
Easy application process
Available credit line for future purchases
Low rates & flexible monthly payment options
Use at authorized Yamaha Dealers
Exclusive Yamaha Loyalty benefits
STABILITY WHEN YOU NEED IT.
Our plans are custom to you!
Our Yamaha Installment program provides flexible options for fixed monthly payments on a predetermined schedule. Purchase with confidence knowing Yamaha has a finance solution that fits your lifestyle & needs.
YAMAHA INSTALLMENT LOAN FEATURES AND BENEFITS:
Full Spectrum Credit Program
Finance the amount you need
Fixed monthly payments
Simple and quick application process
Flexible terms
Exclusive Yamaha Loyalty benefits
Y.E.S. WE'VE GOT YOU COVERED!
Yamaha Extended Service (Y.E.S.) is designed and administered by Yamaha just for Yamaha owners like you. Y.E.S. provides peace of mind against repair costs related to any defects in materials or faulty workmanship. Ask about Y.E.S. coverage options with your local authorized Yamaha dealer today!
Y.E.S. BENEFITS:
Nationwide coverage
No mileage/hour limits
Travel and Recreation Interruption Protection (TRIP)
No deductible
Transferable
COVERAGE YOU CAN TRUST.
Guaranteed Asset Protection (GAP) offers protection if your product is stolen, accidentally damaged beyond repair or otherwise declared a total loss, by covering the difference between the insurance company's total loss settlement and the amount owed on the contract.
GAP BENEFITS:
Up to $500 insurance deductible reimbursement
Protects your credit rating
Releases you from the burden of paying off a vehicle that you no longer have
GAP Plus- $1,000 repurchase credit
GAP Plus- Up to $1,000 insurance deductible reimbursement
BACKED BY THE BEST!
Yamaha Pre-Paid Maintenance (PPM) ensures that your Yamaha is in optimal riding condition while protecting you against increasing parts and labor costs. Available plans cover additional factory recommended maintenance (varies by model), performed by your authorized Yamaha dealership.
PPM BENEFITS:
Protects against potential rising parts and labor costs
Scheduled service intervals
Service performed with genuine Yamaha parts and Yamalube
Maintains optimal condition of Yamaha products
Improves trade-in or resale value